Red Eléctrica ha puesto en marcha el proyecto piloto "Control de la vegetación en la calle de seguridad de la línea eléctrica L/ 220 kV Quel-La Serna mediante el uso de ganado" para favorecer la biodiversidad y fomentar actividades complementarias que ayuden a incrementar la rentabilidad económica de las explotaciones ganaderas. Este proyecto ha sido desarrollado en colaboración con AgroVidar (empresa especializada en soluciones agroambientales sostenibles), con el ayuntamiento de Calahorra y la Consejería de Sostenibilidad y Transición Ecológica de La Rioja.
"Guía práctica de Pastoreo en RED" y "Guía para la evaluación de los servicios de los ecosistemas"
Red Eléctrica has launched the pilot scheme "Vegetation control in the safety road of L/ 220 kV Quel-La Serna power line through the use of livestock", to favour biodiversity and to promote complementary activities that help increase economic profitability of livestock farms. This project has been developed with AgroVidar (a company specialized in sustainable agri-environmental solutions) with the town hall of Calahorra and the Department of Sustainability and Ecological Transition of La Rioja.
| | |
| --- | --- |
| Responsable del tratamiento | RED ELÉCTRICA CORPORACIÓN, S.A., NIF: A-78003662, domicilio en Paseo del Conde de los Gaitanes 177, 28109 Alcobendas (Madrid). |
| Finalidad del tratamiento | Gestionar el adecuado seguimiento de la información publicada y, en su caso, contactar con los interesados para desarrollar proyectos en el territorio. Debe proporcionar los datos requeridos en el formulario como obligatorios. En el caso de no facilitar los datos solicitados con carácter obligatorio, no podrá tramitarse su solicitud. |
| Legitimación | Los datos son tratados en base a la ejecución de un contrato. |
| Destinatarios de los datos (cesiones o transferencias) | Los datos podrán ser comunicados a las sociedades de Redeia, así como a órganos de la Administración Pública, organismos judiciales o reguladores con competencia en la materia. |
| Plazos de conservación | Los datos personales proporcionados serán conservados por el plazo en que sea necesario para la consecución de la finalidad anteriormente referida y, posteriormente, debidamente bloqueados, en previsión de su necesidad para atender cualesquiera responsabilidades que se pudiesen derivar de la misma, durante los plazos de prescripción de dichas acciones y responsabilidades, tras lo cual serán eliminados de forma segura. |
| Derechos | Ud. puede ejercitar sus derechos de acceso, rectificación, supresión y portabilidad de sus datos, de limitación y oposición a su tratamiento, así como a no ser objeto de decisiones basadas únicamente en el tratamiento automatizado de sus datos, cuando procedan, a través de la dirección de correo electrónico digame@ree.es incluyendo en el asunto "Protección de Datos" o por correo postal en el domicilio antes reseñado. Asimismo, podrá interponer una reclamación ante nuestro Delegado de Protección de Datos (dpd@ree.es) o ante la Autoridad de Control (en España, la AEPD). |
| Información ampliada | Puede ampliar la información sobre el tratamiento de datos personales en nuestra política de privacidad https://www.redeia.com/es/politica-de-privacidad. |
The objectives of this pilot scheme, which is pioneer in Spain, are as follows:
To control vegetation growth in the safety road located under the facility by grazing sheep.
To contribute to improving the natural capital of the surrounding facilities, helping to maintain soil fertility and biodiversity preservation.
To contribute to generating new sustainable employment, settling population, and facilitating generational change.
To reduce greenhouse effect emissions in maintenance activities.
To incorporate applied knowledge and technology through GPS collars to extensive livestock management.
The results of the project have been as follows:
700 sheep have cleaned 13 hectares of the security road from January to November 2020, in compliance with Red Eléctrica's safety standards.
Preparation and edition of a guide to facilitate the replicability of the project to other regions of the country.
Pilot subject matter of study at Universidad de Alcalá
Along with Universidad de Alcalá, we developed the project "Evaluation of ecosystem services arising from vegetation management in the electricity transmission network through grazing" and its practical application to the initiative "Pastoreo enRED in La Rioja". The results have shown that the use of livestock in the maintenance of the electrical energy transmission network enhances the services of the regulatory, cultural and supply ecosystems and facilitates biodiversity and the well-being of the society.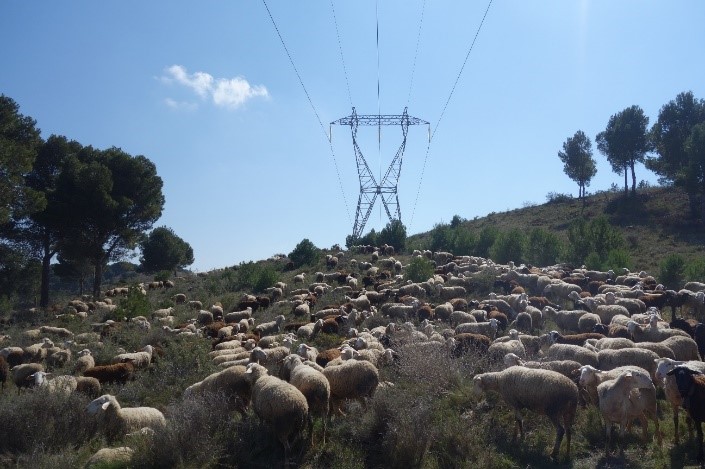 Generational Replacement
Likewise, in order to ensure the availability of generational replacement with the necessary knowledge to facilitate the continuity of the good herd management in extensive livestock farming and the conservation of the landscapes of our villages, Red Eléctrica has worked with the Asociación Campo Adentro in the 2020 edition of the Escuela de Pastores de Madrid (School of Shepherds of Madrid.) This school is supported by the State Federation of Shepherds' Associations and the town hall of El Boalo-Cerceda and Mataelpino (Madrid).
50 students out of 130 applications received were selected to take the theoretical module; 30 of those carried out field practices.