Red Eléctrica, RACE and IDAE organise an exhibition to relate information regarding the electric vehicle to the general public
Campaign PROVELE kicks off in Seville for the promotion of the electric vehicle
Luis Atienza, chairman of Red Eléctrica, and Ramón García-Moliner, president of RACE, take part in the official presentation of the initiative
The national campaign PROVELE for the promotion of the electric vehicle kicked off today in Seville, an initiative from Red Eléctrica and RACE that seeks to disseminate all the information available regarding the electric vehicle to the general public through exhibitions and hands-on educational workshops. The opening ceremony was presided over by Juan Antonio Martínez Troncoso, the delegate for Innovation from the Seville city council, and counted on the participation of Luis Atienza, chairman of Red Eléctrica de España; Ramón García-Moliner, chairman of RACE, and Alfonso Beltrán, director of the Institute for Energy Diversification and Saving (IDAE), from the Ministry of Industry, Tourism and Trade.
The exhibition premises, located in the historical centre of the city, next to the Archivo de Indias, consist of a mobile classroom with multimedia systems and a workshop area, where visitors can find different types of electric vehicles, charging points and informative guides.
The different activities included in PROVELE attempt to highlight, in particular, the impact that the implementation of the new vehicles and their recharging will have in the electricity system of the future. In this way, an intelligent recharging of the vehicles can convert this form of transport into a strategic ally so as to obtain maximum efficiency in the operation of the electricity system.
These activities also have as an objective to inform users about the urban and environmental advantages of the different technologies available in the new electric vehicles.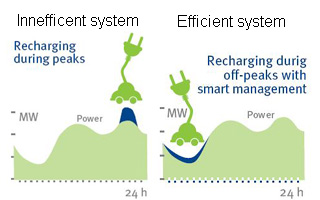 The information included in the informative multimedia systems and pamphlets is completed with four workshops. The first of them is given in the mobile classroom and deals with the operation of the Spanish electricity system, with special attention to the integration of renewable energies.
The other three workshops focus on the benefits of the electric vehicle and on the different methods of recharging. With this in mind, PROVELE has developed a simulator of intelligent recharging with which visitors can check out, in a practical way, how electric vehicles can help to improve the efficiency of the system and facilitate the integration of renewable energies.
Within the campaign, guided visits with students from secondary schools and those in professional training have been organised, with the aim of teaching future drivers about the advantages of the electric vehicle in order to obtain a more sustainable mobility.