A project of 15.3 million euros, which connects the two electricity axes of the region
El Sequero-Santa Engracia line, inaugurated in La Rioja
The President of the Government of La Rioja, Pedro Sanz, the Delegate of the Government in the autonomous community, Alberto Bretón, and the Chairman of Red Eléctrica de España, José Folgado, today inaugurated the 220 kilovolt (kV) line that links the substations of El Sequero and Santa Engracia; key facilities for strengthening the meshing of the transmission grid in the central area of the region of La Rioja and that will improve security of supply and allow greater integration of renewable energies.
With an investment of 15.3 million euros, the project includes a new 220 kV double circuit line, 8.1 km in length; the enlargement of the 220 kV El Sequero and 400 kV Santa Engracia substations; and a new 220 kV transformer switchyard in the latter substation.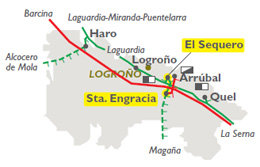 These new infrastructures enable the connection of the 220 kV axis that supplies power to the autonomous community with the 400 kV axis. Having a new back-up point for the 400 kV grid at the Santa Engracia substation will enhance backing for transmission distribution in the area with the highest consumption in the region. Furthermore, the meshing of the two axes will facilitate a greater evacuation capacity for new electricity generation, especially renewable energy, which represents 46% of the generation in this region.