Guarantees the supply in the city of Malaga and on the Costa del Sol
Inauguration of the Cártama substation, a key facility for the province of Malaga
Represents an investment of more than 50 million euros
The President of the Junta de Andalucía, José Antonio Griñán, and the Chairman of Red Eléctrica de España, Luis Atienza, have inaugurated the Cártama electricity substation in Malaga. This is a vitally important facility in order to guarantee the electricity supply in the province and to strengthen the powering of the high speed train for the section running between Cordoba and Malaga.

The investment in this facility was 53.2 million euros and forms part of the 600 million euro investment in Andalusia, forecasted by of Red Eléctrica de España for the period 2010-2014, under the collaboration protocol, signed by the Junta de Andalucía and Red Eléctrica in July 2010, to drive forward transmission grid development.

Consisting of a 400 kilovolt (kV) switchyard and another of 220 kV, the Cártama substation is a key facility for guaranteeing the supply in the city of Malaga and on the Costa del Sol and, along with the Tajo de la Encantada and Jordana substations, are the three key nodes of the electricity transmission grid in the province of Malaga.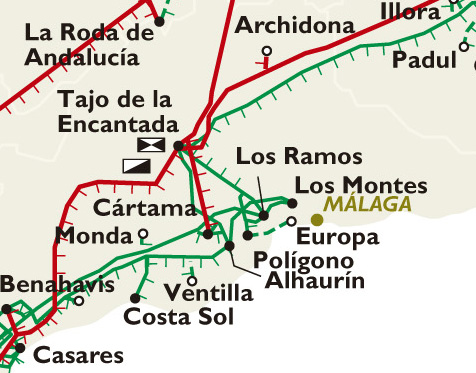 The Cártama substation is fed through two of the most important axes in Andalusia: the Guadame-Cabra-Roda de Andalucía-Arcos de la Frontera axis through a 400 kV line Cabra-Cártama and the Pinar del Rey-Jordana-Tajo de la Encantada-Caparacena-Litoral axis, through the Tajo de la Encantada-Cártama 400 kV line.

The 400 kV switchyard transforms the energy required to power the high speed train and originating from the 220 kV switchyard are the lines which transport the electricity towards the substations that cover the electricity consumption in the province of Malaga.

A new maintenance division for Andalusia
In order to maintain the required levels of quality of Red Eléctrica's facilities, due mainly to the increase in the number of infrastructures in the Costa del Sol area as well as the purchase of assets from Endesa in 2003, Red Eléctrica has created the Cártama Maintenance Division. This maintenance division has its main office in the newly inaugurated Cártama substation and has a team of 14 technicians to deal with the facilities in the province of Malaga and the Cádiz-Pinar del Rey axis.

During the construction of the building, which houses the maintenance division, special care was taken regarding environmental and energy efficiency aspects, taking full advantage of the natural light. It also has a hot water supply system powered by solar energy and a charging point for electric vehicles.