Represents an investment over 63 million euros
Inauguration of the Fuendetodos-Mezquita axis and the Mezquita substation, central hub of the future meshed electricity grid of Teruel
The Aragón Councillor of Industry and Innovation, Arturo Aliaga, and the Chairman of Red Eléctrica de España, José Folgado, have inaugurated the Mezquita electricity substation in Teruel, and the 400 kilovolts (kV) Fuendetodos-Mezquita line. These facilities form part of Red Eléctrica's infrastructure plan to provide a grid in the province that will allow the province's electricity needs to be met.
The Fuendetodos-Mezquita axis and the Mezquita substation make up the central hub of the future meshed electricity grid for the province of Teruel, in order to guarantee the electricity supply and the service quality in the province and to provide the transmission grid with a greater capacity to evacuate the renewable energy from the new wind farms that will be installed in the area.
Investment in the Fuendetodos-Mezquita line has been 39.6 million euros and 20.3 million in the Mezquita substation. The project has also included the enlargement of the Fuendetodos substation, in Zaragoza, with an investment of 3.3 million.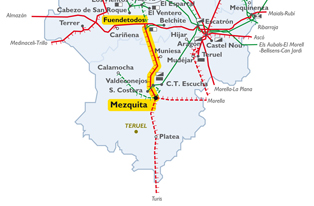 The Fuendetodos-Mezquita double-circuit line, almost 80 kilometres in length, that passes through 6 municipalities of Zaragoza and 11 of Teruel, is the first transmission axis of 400 kV in the province to support the distribution of electricity in the area. In addition, the substation, that is composed of two switchyards, one of 400 kV and another of 220 kV, is the key facility for electricity grid meshing in the province.

Other facilities in the province of Teruel
The development of transmission facilities in Teruel foresees the construction of new facilities destined to guarantee supply and to support electricity distribution in the province, as well as to evacuate energy from the wind farms. New lines will be constructed from the Mezquita substation that will connect it to Castellón, via the 400 kV Mezquita-Morella line, and with Valencia, via the Mezquita-Platea-Godelleta line which is also 400 kV.
Also, the 220 kV Calamocha substation has been built and shortly the 220 kV line, which is 47 kilometres long, that will link up to the Mezquita substation will be finished. This line will facilitate the business and economic development of the region and in the future will power the high speed train between Zaragoza and Teruel.
Finally, the 220 kV Híjar substation is being built to support to distribution in Híjar and Alcañiz.