47 million euros on the main project of Red Eléctrica in eastern Andalusia
Inauguration of the Tabernas-Benahadux line in Almeria
The delegate of the Government in Andalusia, Carmen Crespo, the Minister of Economy, Innovation, Science and Employment of the Junta de Andalucía, Antonio Ávila, and the General Manager of Transmission for Red Eléctrica de España, Carlos Collantes, have inaugurated the 220 kilovolt (kV) line that links the Tabernas and Benahadux substations whose purpose is to strengthen the transmission grid meshing and improve the supply to the province of Almeria.
This project, whose investment was 31.2 million euros, includes the construction of the line which is 32.3 km in length, the construction of the Tabernas 220 kV substation, and the enlargement of the Benahadux substation, also 220 kV.
To these facilities we also need to add the incoming and outgoing Tabernas 400 kV line, coming from the Huéneja-Litoral line as well as the Tabernas 400 kV substation, which were put into service in 2011, and represented an investment of 15.9 million euros, bringing the total investment for the entire project to 47.1 million euros.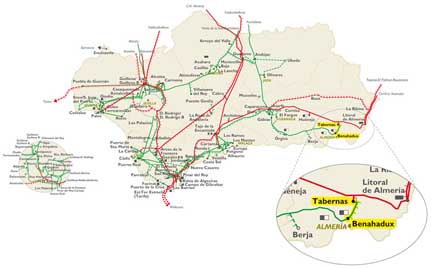 The commissioning of these two Red Eléctrica facilities signifies the completion of one of the strategic points of national electricity meshing in Andalusia, which was the strengthening of the transmission grid in Almeria and the Almerian coastline, so that from now on, in addition to the stability of supply, there is sufficient capacity to provide electricity to new business and housing developments situated along the coastline.
Other facilities in the province of Almeria
The development of electricity transmission facilities by Red Eléctrica in the province of Almeria also foresees the construction of other facilities geared towards supporting the distribution of electricity in the province and the evacuation of wind farms, such as the La Ribina substation for a line from Vera a Baza and Caparacena (Granada).