Redeia and the Reina Sofía School of Music bring live classical music to rural Spain
They have sealed a collaboration to democratise access to classical music in remote and depopulated areas with a tour of recitals and virtual reality workshops
The concerts, performed by students from the school, will be held in historic or iconic buildings in four towns with fewer than 5,000 inhabitants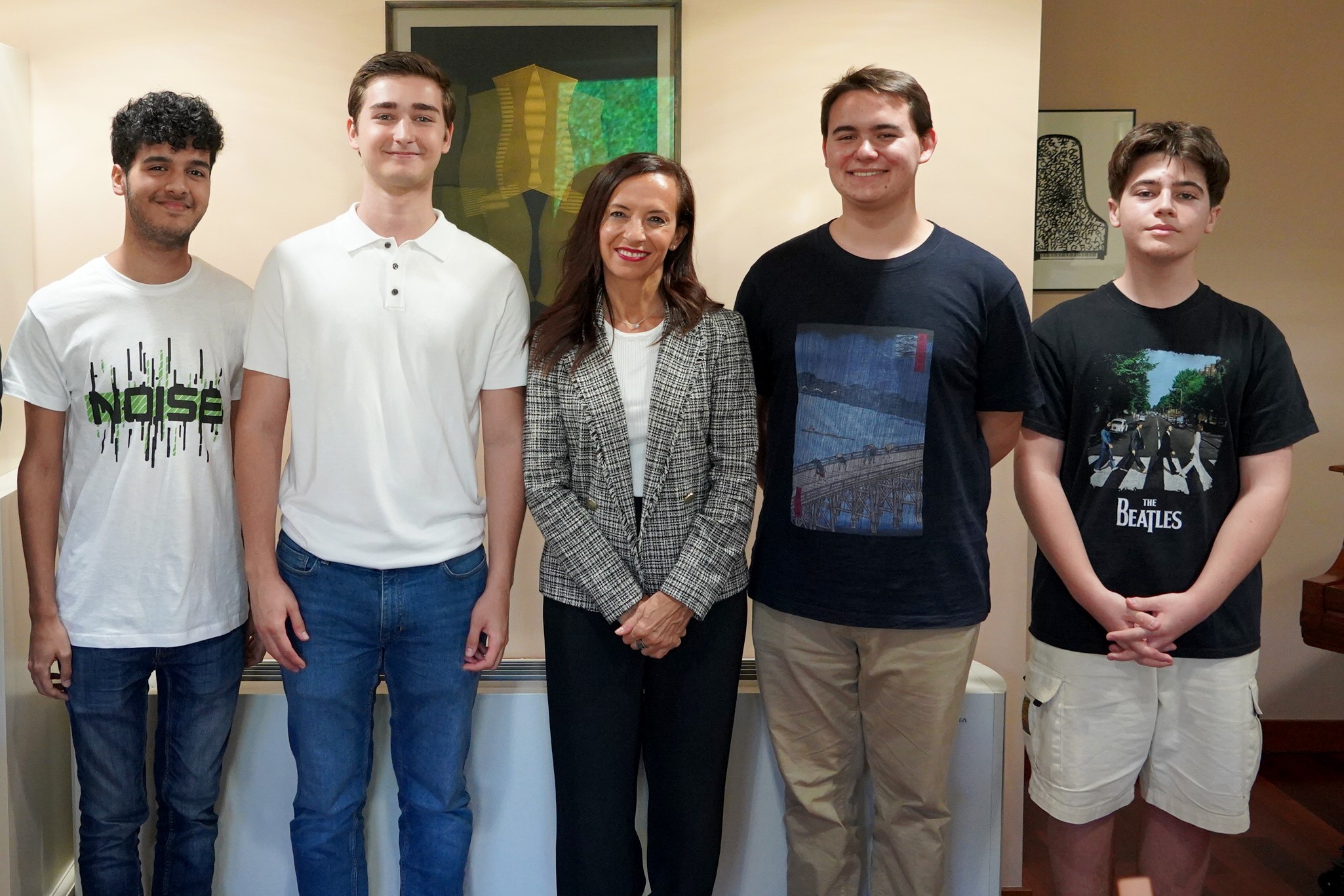 Beatriz Corredor, with some students of the School: Gustavo Gil, Javier Burgos, Héctor Mira and Hugo Domínguez.
The Reina Sofía School of Music and Redeia have signed a collaboration agreement to bring the music of the school to rural towns in Spain where access to culture, and classical music in particular, is more limited and challenging.
The collaboration consists of an annual tour of free recitals by students from the Reina Sofía school in four municipalities in remote areas with depopulation issues and populations ranging from 500 to 5,000 inhabitants. The concerts will be held in historic or iconic buildings, and prior to the recital, performers will introduce the pieces with explanations to enhance the audience's enjoyment and appreciation of the music. This approach enables residents to enjoy the talents of young musicians trained at the school. On the other hand, it promotes their careers and improves the employability of students by providing opportunities to perform outside traditional cultural circuits.
The tour will also include virtual reality workshops thanks to an immersive experience created by the School. It will allow participants to discover the works of great composers by travelling from the stage of an orchestra concert to a luthier's workshop, including a palace in Venice, and other virtual landscapes and environments. In addition, a musicologist and educator contextualises the pieces and relates music to emotions: Mozart and joy, Tchaikovsky and sadness, or Respighi and surprise, among others.
Paloma O'Shea, President of the Reina Sofía School of Music, and Beatriz Corredor, Chairwoman of Redeia, have sealed the agreement. In Paloma O'Shea's words: 'From the inception of the school, one of our objectives has been to bring music closer to everyone. This means sharing our students' talent in major national and international concert halls, but also in places where the conditions for enjoying these artistic experiences on a regular basis are not available.' 
Beatriz Corredor adds: 'Redeia is firmly committed to equal opportunities and the development of rural areas, where we deploy most of our infrastructure. We believe that living in a depopulated Spain should not mean enjoying fewer rights or opportunities. With this tour, we bring first-class classical music to towns where it is usually inaccessible, and we facilitate access to culture, education, and leisure for the population in rural areas on equal terms.'
Through this agreement, Redeia seeks to enhance its social impact by strengthening the development of culture in less prominent spaces. For the School, this agreement is part of its proactive policy to create alliances with relevant and prestigious organisations and institutions that help it fulfil and extend its mission of bringing music closer to society. The transformative power of music and its ability to break down barriers and bring people together are what drives the school to bring its cultural offerings to rural communities in collaboration with Redeia.
 
About the Reina Sofía School of Music 
Founded in 1991 by Paloma O'Shea, the mission of the Reina Sofía School of Music is to support young musicians in their artistic and personal development and to bring music closer to society. It is guided by three core values: educational quality in academic, artistic, and management aspects; social commitment, which manifests in inclusiveness and an impact on society as a whole, especially vulnerable sectors or those most distant from music; and continuous improvement, driven by a growth mindset and innovative spirit. 
Each year, around 160 students from over 30 different nationalities study at the school with tuition-free enrolment, selected solely based on their talent. At the school, they receive personalised instruction from the world's best specialists and perform in over 300 public concerts organised each academic year.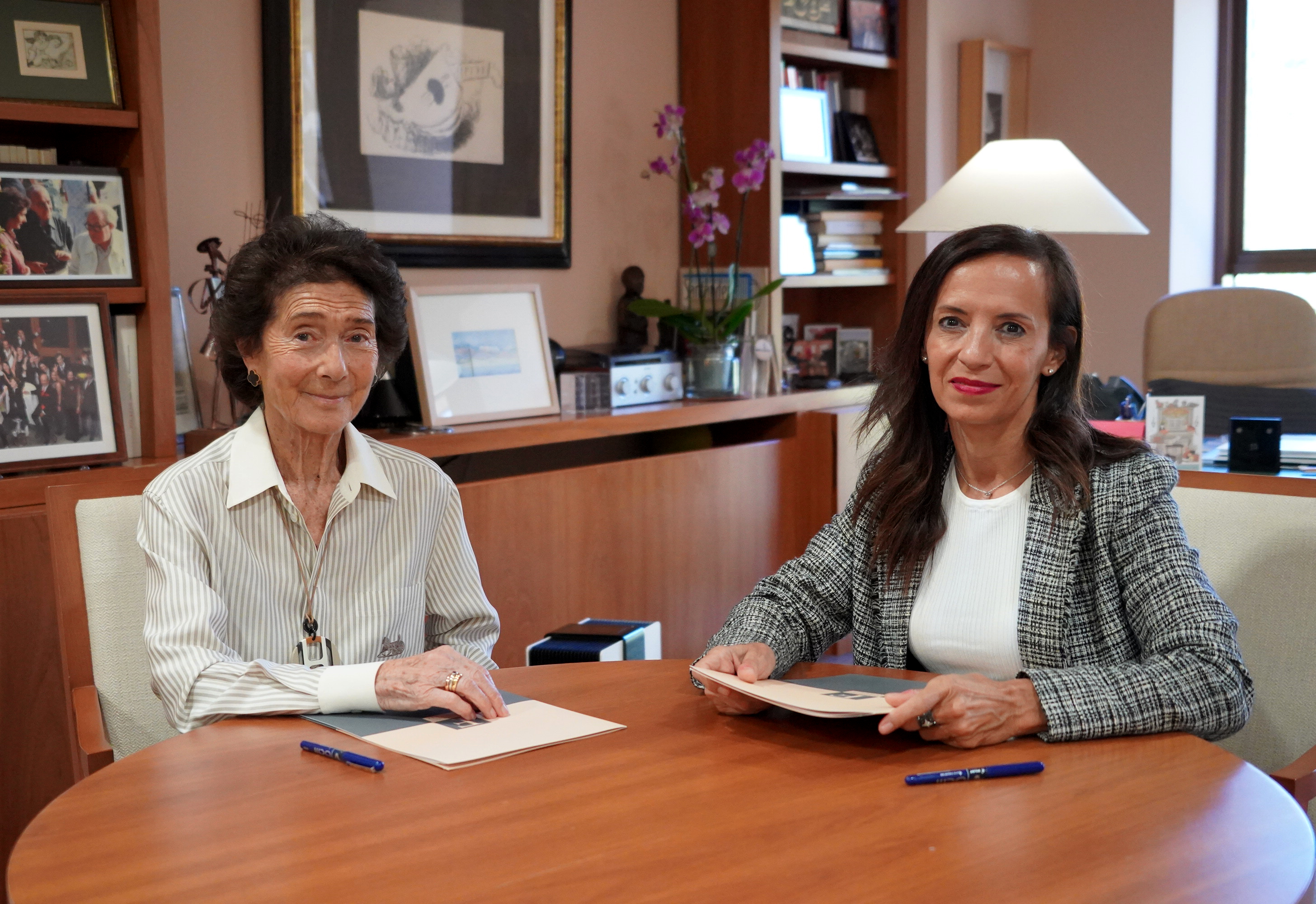 Paloma O'Shea and Beatriz Corredor, after having signed the collaboration agreement.