An R&D+i project to optimise line capacity
Inauguration of the Fuendetodos-María line, closing the half-ring south of Zaragoza
The Minister of Industry and Innovation of Aragon, Arturo Aliaga, and the Chairman of Red Eléctrica de España, José Folgado, have inaugurated the 220 kilovolt (kV) Fuendetodos-María line.
Together with the Jalón-Los Vientos axis, the project completes the closure of the 220 kV half-ring south of Zaragoza, which aims to strengthen the meshing of the transmission grid, facilitate the evacuation of renewable energy and support the distribution of electricity in the province.
The double circuit line, 29.9 kilometres in length, runs through seven municipalities, and represents an investment of 20 million euros, of which 1.25 million was funded by the European Commission for the development of the new real-time measuring technology of the transmission capacity of the line.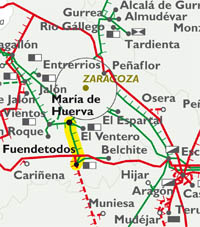 An R&D+i project supported by the Government of Aragon and the European Union
The Fuendetodos-María line was declared of special interest by the Government of Aragon and was also chosen by the European Twenties project for the development and implementation of new technologies that allow to achieve greater flexibility in the transmission grid in order to maximise the integration of wind power generation.
The project involved the installation of a conductor cable with an optical fibre inside that allows continuous measurement of the temperature of the conductor, and therefore have a precise knowledge of the actual transmission capacity of the line. This development was carried out on this line as it is in an area with a lot of wind generation, with the objective of improving capacity in this type of environments.