Red Eléctrica has a Human Rights Management Model that structures and systematises the Company's actions to protect, respect and remedy any risk related to Human Rights. This management model follows the methodology defined by the Guiding Principles on Business and Human Rights, proposed by the United Nations (UN), and is developed in the following elements: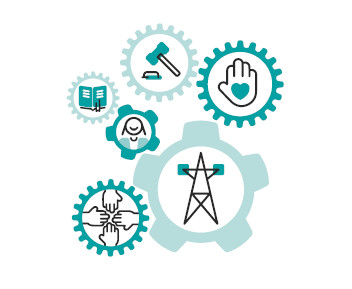 Public Commitment
Due Diligence
Grievance Mechanisms
Communication
Red Eléctrica, as a benchmark company in its sector, contributes to the development and progress of the countries and territories in which it operates (currently in Spain, Peru and Chile). Due to the sector in which the Company's activity is encompassed, its exposure to human rights-related risk is mainly found in the field of occupational health and safety of people, working conditions, the supply chain and the impact on the community. The Red Eléctrica Group has policies and control mechanisms to minimise these risks, ensure respect for Human Rights and remedy possible infringements thereof.
The activities of the Company in no case infringe on the Human Rights of any vulnerable group. It should be noted that, although Peru has an indigenous population, there are no indigenous settlements or communities in the area directly influenced by the Group's activities and, therefore, there is no impact on the indigenous population. In its Code of Ethics, the Company undertakes to respect the freedom and rights of ethnic minorities and indigenous communities, as well as to contribute to the development of such groups in those countries in which it carries out its activity.
Human rights have been, since approval of the Universal Declaration on Human Rights in 1948, the international standard which guarantees the recognition of individual liberties and dignified living conditions for all people in the world. Red Eléctrica maintains an explicit and public commitment to respect, uphold and promote Human Rights in the execution of all its activities, as set out in the Code of Ethics and Corporate Responsibility Policy of the Red Eléctrica Group.