Since the launch in 2008 of the 'Red Concilia' project, we have been working in a structured manner in the field of work-life balance following a continuous improvement management model. In 2014, this work-life balance model was integrated into the Healthy Workplace model.
The ultimate goal is that all the people in the Company have the opportunity to develop their professional careers without the need to give up their personal and family responsibilities. This goal is based on the conviction that people who find a better balance in the different areas of their lives (professional, personal and family) also have a greater level of satisfaction and an improved performance within the Company.
To date, Red Eléctrica has more than 60 different measures implemented in the following fields: flexible working timetables; authorised leave and holidays; maternity and paternity leave; care of family members with disabilities or otherwise dependant; social benefits and products; services; and activities and events.
Recognitions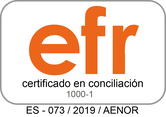 First prize in the Alares National Award for Work-Life Balance and for Social Responsibility in the 'Large Enterprise' category.
Second prize in the Randstad Awards for Work-Life Balance.